Totton Angus raises a few grass-fed heifers every year and the moderate framed cattle work very well for this, as well as producing exceptional meat. Our most recent challenge is buying registered polled hereford heifers and breeding them to become as maternal as the angus cattle. We are dedicated to the extensive planning and practices of breeding high quality cattle that serve the best interests of our customers.
---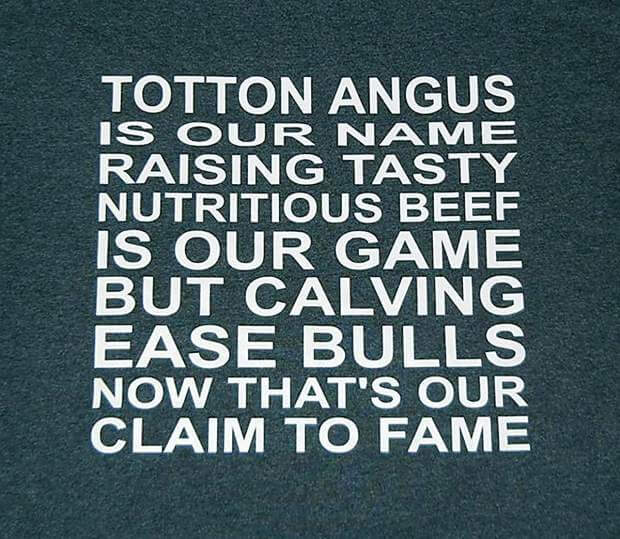 The Totton family supports the troops in many ways, but while they're telling military members they care, they're also telling them how proud they are to produce beef. This was the message on the t-shirt the Totton family team wore at the Black Hills Veterans March and Marathon.
Charles and Tanya Totton of Totton Angus near Chamberlain, S.D., are proud to support the troops. With several family members having served in the military, both past and present, their hearts are with the men and women who are making sacrifices to protect America's freedoms.
They recently participated in the 11th Annual Black Hills Veterans March and Marathon (BHVM) on the Mickelson Trail in the Black Hills of South Dakota. The march was hosted by the South Dakota National Guard Enlisted Association and raises money to support organizations like the VA that help veterans across the country.
One of the organizers of the event was Charles' and Tanya's daughter, Courtney (Totton) Tyrrell, who encouraged her parents to not only be a sponsor of the march, but to also participate.
"My grandpa was a veteran, and he was a big reason why I got into the military myself," said Tyrrell. "It's amazing how much the VA helped him in the last couple of years of his life, so it's important to me to be a part of something that raises money to support organizations that help our veterans. The race raised $6,000 for the veterans."
"My job is to raise money for the event," she added. "My parents have been proud sponsors the last couple of years, but this year I really wanted them to participate in the race itself. It was a fun challenge for them."
After some persuasion from Tyrrell, the Totton family put together a civilian co-ed team for the march, opting for the half marathon (13.1 miles) instead of the full 26.2 miles. Their team included Charles and Tanya, Courtney and her husband Jonathan, and friends John, Gabrielle and Rowdy Hoing, and they placed first in their division at the race, with more than 230 individuals racing in the event.
"I made an attempt to walk three miles every night in preparation for the race," said Charles with a chuckle. "It was a really positive experience overall. I have a daughter, brother and dad who are veterans, so this is a pretty easy thing to support. I think it's important for everyone to support our troops, with everything that's going on in the Middle East. We need our military men and women to serve, and they need to know we stand behind them."
A true cattleman at heart, Totton didn't miss the chance to promote beef while supporting the troops. He designed Totton Angus team shirts with the slogan, "Cotton Angus is our name. Raising tasty and nutritious beef is our game. But, calving ease bulls is our claim to fame."
"I came up with the slogan myself," said Charles. "We all wore the shirts while we marched. I even had a lady come up to me after the race and asked for my business card. I think she's going to buy beef from us."
The Tottons are in the business of selling bulls, and Charles said that promoting beef is a great way to ensure that his cattle business survives and thrives.
"If people don't want beef, there's no sense selling bulls to produce beef," he said. "All cattlemen should be promoting beef if they care about staying in business. There are so many animal and environmental activists that are loudly telling people how bad beef is; we need to be a part of the discussion and talk louder than they do."
Totton often wears an "I love beef" t-shirt and has participated in beef cook-offs at the South Dakota State Fair, as well as a prime rib and brisket cook-off held each year in Chamberlain. This year, the Chamberlain event was held at the same time as the march, so he loaned his "I love beef" t-shirt to his neighbor, Dean Bisbee, who won the cook-off while Totton was busy winning at the march.
"I've challenged my ranching friends to participate in the race next year," said Totton. "A little rivalry will help support a great cause."
"This year's event was really positive," added Tanya. "There were different stations every 4-5 miles with signs telling you how far you had left to go. They served chislic during the race. Next year, we're going to get them to pass out beef jerky."
This isn't the first time the Tottons have supported the troops while also promoting beef.
When the South Dakota Army National Guard's 200th Engineer Company was deployed in 2011, Tanya dedicated time to the 200th Camo Quilt Project, which included a group of local women who put together 200 quilts and raised $5,200 to support the members of the unit. Many of the members of the 200th were friends and neighbors, as the unit was based out of Chamberlain, Mobridge and Pierre. The same group then went on to partner with Operation Military Kid, and they put together Hero Packs, which included age-appropriate items like books and cameras, for area children whose military parents had been deployed.
Charles decided he wanted to support the troops, as well, so he worked with the Camo Quilt Project to raise enough money to process a steer and make jerky, which he organized to send overseas to the 200th Engineer Company while the unit was stationed in Afghanistan.
"When I started calling and asking for donations, I was surprised by how willing my neighbors were to donate to the cause," said Charles. "It only took five or six calls to raise the money needed to process the beef."
Area ranchers donated 400 lbs. of beef, which resulted in 220 lbs. of jerky that was sent to the guard members. Chamberlain Locker gave a discount on the processing, and Totton Angus, Chamberlain Livestock Auction, Glaus Angus, Hoing Hereford, Peterson's L-7 Bar Limousin, Pharo Cattle Company, Professional Alliance, Inc., and R and R cattle Company donated the beef and helped pay for the processing.
"This was our way to promote beef and support the troops," said Charles. "Everyone who was involved was really excited to be a part of this."
The ranchers quietly donated to the troops then, but they hope to do it again in the future and make a bigger splash this time. It's Totton's hope that other ranchers will follow suit and send beef overseas to the troops.
"It's really a win-win for ranchers to promote beef and support the troops," said Totton. "Without their sacrifice to serve our country, we wouldn't have the freedoms to raise cattle and produce beef here in the U.S."
---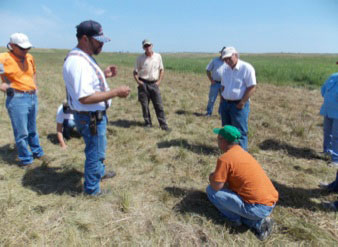 Charlie Totton explaining his mob grazing system at a tour last July to SDSU and UNL researchers working on a joint South Dakota-Nebraska mob grazing project on 13 producer sites.
Charlie Totton and his wife, Tanya, operate a Black Angus cow/calf and breeding stock operation in the Chamberlain area. Intensive grazing during the growing season was a natural next step in their range management program. Their goal was to increase grass production in such a way that they improve their grass at the same time. They specifically hope to encourage more big bluestem in their predominantly western wheat pastures.
Starting in 2009, Totton divided a 640 acre section into 80 acre pastures, each with access to water. The paddocks are 1/2 mile long and 1/4 mile wide. He uses electric poly wire to section off each strip, starting with the one closest to the water. Each day's grazing covers about 4 acres with 200 cows, or 50 cow days/acre. He and Tanya spend 30 to 60 minutes every morning moving the fence from the beginning of July until Labor Day.
Only 1/2 of the section is grazed during the summer. Yearling heifers flash graze the same ground the following spring, adding another 10 cow days/acre. Translated into animal units, they utilize 1/2 acre per AUM. The other half rests, allowing the grasses to grow and reseed. The rested grass is then used for winter grazing.
After four years, Totton estimates that grass production has nearly doubled. They haven't increased the stocking rate, but have used the extra grass to extend their grazing season deep into the winter. "It's an idiot proof system," said Totton. "You don't need a PhD in Range Science to do it."
They feed hay during the March and April calving season. The extra winter grass allows Totton to bale up crop residue, producing a good drought cushion. Even with only 11 inches of rain in 2012, they didn't need to destock. Totton hopes the current weather patterns bring enough moisture to get through this year without destocking, too. Their yearling heifers offer an extra drought cushion. If it's dry when they start AI at the beginning of June, they can be sold rather than breeding them for later sale.
By feeding only two months of the year, he's also cut the time and energy used to cut and bale hay. Totton figures that moving cattle daily is still less time consuming than putting up more hay. They keep a winter's worth of hay on hand, just in case.
Some results of the intensive grazing program surprised them. One surprise was the wide variety of plants that cattle will eat. The herd even ate their way through an entire draw full of poison ivy. Totton also learned to be careful about what he hated. Flash grazing was supposed to control what they thought was an overabundance of Ken- tucky bluegrass. Then he discovered that it often stays green under the dead grasses, providing decent winter grazing.
The down side of intensive management is the daily chore of moving the fence. Totton can stretch grazing to two days, but that's it. The other is the need for more water development.
"Increasing grass is a slow process," said Totton. He feels that intensive grazing produces a faster response than his previous management practices did.